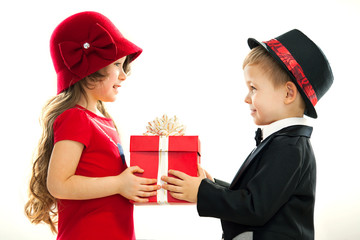 (I googled 'girl gives gift to boy' and the only picture where there was at least some ambiguity, thereby supporting my purpose that a guy is being gifted something by a girl , was this. Something is wrong here and I need to change that.)
I am writing this follow up post to this because I believe in Feminism. And so, if I am gifting you an exquisite Da Milano handbag, I expect something from you. Yes your love might be enough for me but I also want a gift on Valentine's day.
Hence, for the ladies out there who are now stuck at what to gift their man this Valentine's  or the girls out there who are stuck at what to gift their boys (Yes, there is a BIG difference), here is a list of 10 peppy things to present him. Also, since I am assuming here that there are few proposal/early relation gifts in this category (I am not a radical feminist 😉 ), the gifts that I suggest or the links I include might not be very cost effective. Still, I would throw in one or two for the 'just so' part. Most of them are high on utility but have the gift quotient intact by being of a premier quality. Here it goes-
#1- A Fitbit
It keeps him fit by keeping track of everything he does in a day, how many calories he burns, his pulse and blah blah blah. On top of all its benefits, it's so uber-cool to resist. Lat him control his smartphone with it, see how good he slept and wake him up without waking yourself . He can wear it anywhere, even in a frigging pool and it will just keep going. It's the frigging coolest thing around. It may not be for everyone but then again so isn't your man.
#2- Back-pack
Because men like carrying things and not dragging them. It is best to gift a sort of all-purpose one that fits the bill on a journey as well as small daily needs. The one below will do.
#3- Head Phones- 
Music freaks, Cinefiles or those who just don't want to listen anyone-  a cool headphone is the savior for all. But if you really are going to gift this, you cannot compromise with the quality. If you do, that is buy a cheap one that just looks good, then it would not help your case so much. Get a decent quality and let go the 'A headphone for 3.2k' thought away..
#4- 'Get rich' books
Boys and Men of the new are obsessed with one common thing- getting rich. Even if you might not share their philosophy as strongly, they are not just crazy but even motivated towards easy or quick money. Or at least, reading about it. Gift them a 'get rich book' and you will be gifting them all they want.
#5- A Lightsaber
Star-Wars fanatics range from teeny boys (who possibly first heard about it in TBBT) to men who actually witnessed Star Wars in all its glory. Whether or not they actually get the films, they croon for a Lightsaber. Why? Because it's so sheer awesome.
#6- Games/ Writing Material
If you get them games, they will totally love them but the downside is that then they will completely neglect you for as long as it lasts. So the choice is yours. Also, if you make the otherwise choice or your guy is just not into videogames, gift him a writing prompt book like the  one below.
#7- Wristwatches-
While I am including a premier one here, you may look out for yourself. A wristwatch is a man's jewelry and he deserves a good one at that. Besides, if he is a professional and works in a corporate environment, he deserves it all the more.
#8- Shaving sets
He may or may not shave all that often but when he does, he deserves a suave set for a suave look. This one is clearly overpriced by the standards of a shaving set and he may not even realize this, but you will know it and he would sure as hell love it.
#9- Film Collection-
This is a tricky one. You may very well go ahead and give him one in the genre he prefers. But what purpose would that serve you? Gift him a Shahrukh Khan collection and ask him to get some romance in his veins. It's a win-win scenario for everyone.
#10- M.S. Dhoni T-Shirt/ #WeWantSasha T-Shirt / Lumberjack Shirts
Just as a fiction writer can't help throw in some of his own life into it, even I can't resist doing the same. M.S. Dhoni is a god and if you really want to gift ME something, gift this. Also, if you can get a customised #WeWantSasha T-shirt, which is something explicitly for me, I cannot be more happy.
BUT FOR OTHER READERS, gift him a cool lumberjack shirt in the shades he prefers and he would want to wear it everywhere he goes with you.
This blog post is inspired by the blogging marathon hosted on IndiBlogger for the launch of the #Fantastico Zica from Tata Motors. You can apply for a test drive of the hatchback Zica today.